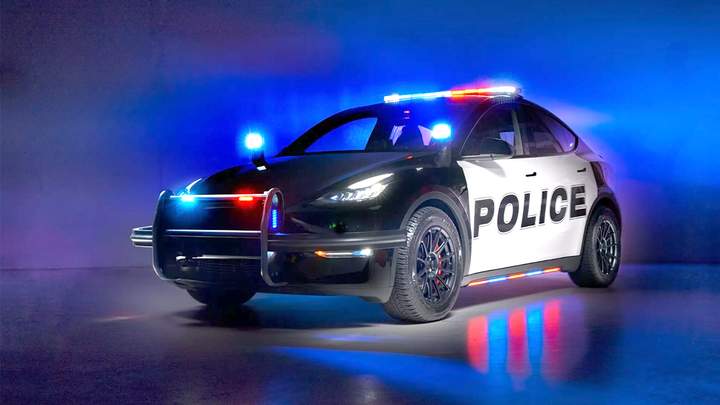 Unplugged Performance presented a police car made from a Tesla Model Y. The novelty immediately aroused the interest of patrol services.
The UPfit tuner's car was demonstrated at the Tesla Takeover event in San Luis Obispo, California, last weekend. The Model Y has received many changes and updates to the exterior and interior, which will make the work of police officers easier. From now on, the workshop will supply similar vehicles to the South Pasadena Police Department. They decided to replace the entire police fleet with electric vehicles.
The updates start with a redesigned front fascia with a new steel grille and flashing blue and red lights just below the hood lid. Tesla has new LED lights on the front side panels. The Model Y was also blessed with a set of glossy black wheels with all-terrain tires, which increased the versatility of the electric vehicle.
The police car has classic flashing lights on the roof, as well as blue and red lights on the side skirts.
The interior has been completely redesigned for police needs. In the cabin, the area of the driver and passenger sitting in the front row was separated from the second row, where detainees are usually loaded.
According to experts, electric vehicles are ideal for police forces, noting that police cars with internal combustion engines spend most of their patrols idling, ensuring that all critical onboard electronics are operational.
"There is no doubt in our minds that the most efficient, safe, and comfortable environment for an officer to spend the majority of their day in is inside a well-equipped Tesla police car. We are excited to introduce Tesla police cars and are confident that we are representing the best choice for taxpayers and police officers alike," said Ben Shaffer, CEO of Unplugged Performance.
Statistics show: 60% of fuel in classic police cars is burned at idle. An electric vehicle can power all onboard electronics, discharging the battery very slowly.